Welcome to The Shining Wiki
This community was created by the fans, for the fans. It is dedicated to housing a useful and informative database for all subject matter related to the series The Shining, which was created first as a novel by Stephen King, made as a film by Stanley Kubrick, remade as a television miniseries by director Mick Garris, turned into an opera with music by composer Paul Moravec and a libretto by Mark Campbell, and remade as a haunted house for Universal Studios' 2017 annual Halloween Horror Nights theme. Our goal is to collaborate with other fans in order to build a reliable, accurate resource with as much detailed information about the novel, the film, the miniseries, the opera, the soundtrack, merchandise, references and theories as possible. All are welcome to join in and contribute here, so long as edits are constructive, discussions are positive, and both are relevant to this series.
The online database about The Shining currently has 197 articles, and you can help us make it grow!
Explore the Overlook
The Overlook Hotel is an iconic landmark in the hearts of horror fanatics everywhere, and The Shining Wiki allows you to explore it like never before!


Explore various rooms of the hotel, including The Colorado Lounge, The Gold Room, and the Basement Boiler Room. See maps of each area rendered by film analysts and game producers from around the globe. Share your knowledge of the Overlook by editing pages in need of content and help make The Shining Wiki the greatest wiki ever!


REDRUM! REDRUM!
Featured Article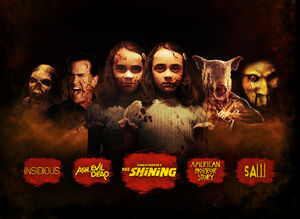 Halloween Horror Nights is the name of an annual Halloween celebration at Universal Studios, at their locations in both Hollywood, California and Orlando, Florida.


One of the five films chosen for their 2017 Halloween theme is the 1980 Stanley Kubrick film adaptation of the 1977 Stephen King novel The Shining.


Both locations built an Overlook Hotel themed maze which takes the viewer through a recreation of the story, from start to finish.
Helping out...
Looking for a way to help out? Feel free to edit the wiki and make it better and more informative!

If an article has yet to be created, use this box to create an article. <createbox> buttonlabel=New Article </createbox>
Not sure where to start?
Want to help out?
When creating a new article, make sure it is spelled correctly!
Help out smaller articles by adding more information.
Add categories to uncategorized articles!
Upload some images on your computer and add it to the wiki!
Shining News
Eli Roth's History of Horror - November 19, 2018
The Shining is given a large amount of airtime on the new AMC television show Eli Roth's History of Horror. The show goes into detail on the film's background, includes a break down of the use of horror within the film, and even includes an interview with Stephen King.
Doctor Sleep - November 8, 2018
The film version of the novel Doctor Sleep, the sequel to The Shining, has been announced by Warner Brother Pictures as possessing a January 24, 2020 theatrical release date.
Mad Magazine Cover - October 31, 2018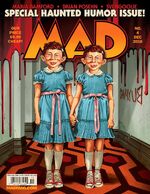 The Shining
gets special treatment in terms of being featured on the cover of the December (#4) issue of Mad Magazine.

Halloween Horror Nights - October 26, 2017
Tickets are no longer available for the Universal Studios Halloween Horror Nights 2017 theme The Shining, and they can no longer be purchased on the Studio's official website, HalloweenHorrorNights.com. The theme performed beautifully and with any luck will return again in the future! Check out our Halloween Horror Nights page for more info on the live-action maze!
Wiki News
This section will list all major updates to this wiki!

Pages Galore - October 23, 2017

I have been trying to add as many pages as I can, relating to to characters, cast, locations, and music as possible. If you have any questions on how you can help, leave a message on my talk page.

Welcome - October 16, 2017

Welcome to this wiki! After years of enjoying this series I finally started a wiki devoted to it. This wiki aspires to cover anything and everything relating to this series.
Copyrights
"The Shining" is copyright (©) Warner Bros. Entertainment Inc., Doubleday, and all affiliated subsidies. No copyright infringements are intended. All rights reserved.